We server the following Connecticut counties:
Fairfield, Litchfield, Hartford and New Haven County.
Eliminate the causes, eliminate the mold.
The major source of mold in attics is due to improper ventilation:
Soffits (overhangs) aren't ventilated or they're blocked by insulation.
No gable vents (at the inverted "v" of the roof).
No ridge vent (going the length of the roof at the top).
A bathroom exhaust may be venting into the attic. When the moisture escaping the bathroom hits the sheathing, and cold air outside creates condensation inside, creating mold-optimal conditions.
The other major cause of attic mold is water. This can come from:
Roof leaks through shingles and gutters
Chimneys with improper flashing that keep water out
These issues, combined with other mold-friendly conditions, creates attic mold problems and must be corrected to ensure the health of the occupants and the ability to sell the home later.
H&H Environmental Provides:
Free Consultations - Call now!
Attic mold inspection and reports
Attic mold remediation and removal / abatement
Treatment to prevent future mold and mildew growth
Public adjuster services
Direct billing to your insurance company
Written, fully transferable warranty on all jobs
The Attic Mold Removal Process: Phase I (Abatement)
First, the inital ventilation and water issues must be addressed. There's no sense in removing the mold until you remove the conditions that allow the mold grow. When you eliminate the cause, only then can you eliminate the mildew and mold in the attic.
The attic mold removal and abatement process includes correcting any ventilation defects, along with removing and replacing the existing insulation. It is not usually necessary to replace the sheathing, however.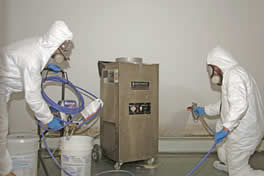 Attic Remediation Process: Phase II (Cleansing)
We use a multi-step process for attic mold treatment:
Contain any materials not
receiving treatment with 6 mil. poly plastic .
HEPA vac all surfaces
recieving treatment.
Apply cleaning system throughout.
Apply biocide throughout (preventing mold from regrowing).
Supply negative air (for all
jobs) to keep any contamination from spreading.
All our mold remediation products are environmentally friendly, and very green!
Choose H&H Environmental as your Mold Removal Contractor
Our remediation products are very green and environmentally friendly!
H&H Environmental keeps up-to-date information on industry standards and regulations. We use top-of-the-line, environmentally friendly products, and we provide the best guarantees and warrantees in the industry.
From a one family home to an entire office building, our warranted mold removal process will continue to provide the ultimate safeguard for families and businesses throughout .
Put our experience to work for you! We can provide direct billing to your insurance company. Count on a written, fully transferable warranty on all jobs.
We provide attic mold testing and attic mold removal services in the CT counties of: Fairfield, Litchfield, Hartford and New Haven County.
We accept all major credit cards.
Call us now at (888) 250-6653 for a free consultation!
CT attic mold removal | Connecticut attic mold testing services