The secondary cause is "mold food":
Mold food is any porous material, including wood framing, sheetrock, insulation and carpeting. When these materials get wet, the mold spores feast, and suddenly, you've got mold, possibly the infamous 'black mold'.
Water and dampness, coupled with other mold-friendly conditions, creates mold in the basement and it must be corrected. Even when the visible water is gone, hidden areas behind walls or under carpets can become a breeding ground for mold spores.
Providing Connecticut basement water removal for:
Fairfield, Litchfield, Hartford and New Haven County.
H&H Environmental Offers:
Free Consultations - Call now!
Basement mold inspection and reports
Basement mold remediation and removal / abatement
Treatment to prevent future mold and mildew growth
Public adjuster services
Direct billing to your insurance company
Written, fully transferable warranty on all jobs
The Basement Mold Testing and Removal Process: Phase I (Abatement)
First, the water and mold food-source issues must be addressed. There's no sense in removing the basement mold until you remove the conditions that let it grow. Eliminate the cause, eliminate the mold.
The basement mold abatement process in finished basements includes removing wet or damaged carpets and sheet-rock - which we haul away for you. We leave timber framing exposed 4' from floor, eliminating a future breeding ground.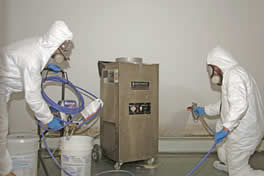 Basement Remediation Process: Phase II (Cleansing)
After the basement is dry and deficiencies are corrected, the existing mold has to be removed. We use a two-step process:
1. Spray cleaner.
2. Biocide.
In unfinished basements, we also use a negative air machine.
All our mold remediation products are environmentally friendly, and very green!
Choose H&H Environmental as your Basement Mold Removal Contractor
H&H Environmental keeps up-to-date information on industry standards and regulations. We use top-of-the-line, environmentally friendly products, and we provide the best guarantees and warrantees in the industry.
Put our experience to work for you! We can provide direct billing to your insurance company. Count on a written, fully transferable warranty on all jobs.
We provide basement mold testing and basement mold removal services in the CT counties of: Fairfield, Litchfield, Hartford and New Haven County.
We accept all major credit cards.
Call us now at (888) 250-6653 for a free consultation!
CT basement mold removal | Connecticut basement mold testing services